Electronic Press Kit for 2023
Alan Gilbert studied guitar, music theory, song writing and recording at CPCC in Charlotte. After playing in several local bands and releasing his 2016 album, Good Time Music, The Gamblers Band was formed.
The other members of the band are Van Yow on bass guitar and vocals, Dicky Bland on lead guitar and vocals and Lee Hall on drums and vocals.
The music ranges from rock, blues and psychedelic to country and folk, with a mix of originals and covers. The down to earth original songs tell tales of Paul Bunyan, Quicksand, Kudzu, Alligator Swamps, Tomatoes and Bartenders. Covers include artist such as Bob Seeger, Robert Johnson, The Eagles, Merle Haggard, The Band, Hank Williams, The Grateful Dead, Johnny Cash, Lynyrd Skynyrd, Littlefeat, John Denver, CCR, etc.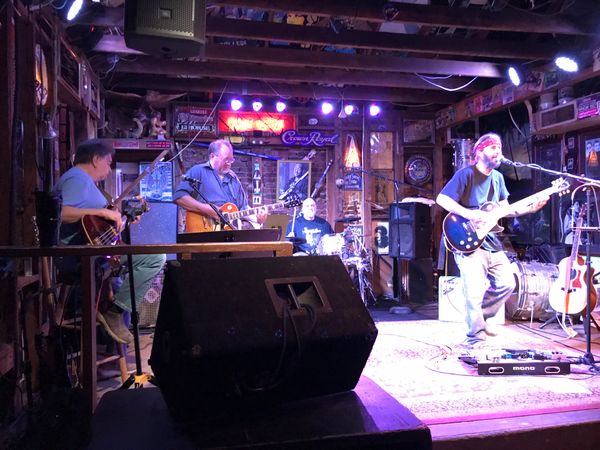 The Gamblers Band is an original band from Stanly County led by songwriter Alan Gilbert. The band plays monthly at The Oakboro Cruise-In and is available for bookings for small or large events.
"

Alan Gilbert's style of entertainment comes strait from the heart. And as in all art that comes from true human experience, you will find a vast variety of human emotion in his performance. You may dab at a tear or two, but mostly you'll grin. "
— Michael Reno Harrell
"

Alan Gilbert, heavily influenced by Arlo Guthrie and singing a song about a kudzu vine...His new album is called Good Time Music."
— Renee Denton - WNCW 88.7
"

You can tell Alan is having a good time up here."
— John Tosco
Press Photos